Dark Lyrical Literary Masterpieces
by Bo Chappell
I want to start off by saying this list isn't what you think it's going to be. This isn't a list of Halloween songs, slasher soundtrack cuts, or themes from horror films. No, I wanted to try and present a list of songs by musicians who have written a song that is right there with Poe on the page and Carpenter on the screen.
Second, the lyrics to these songs are open to interpretation, and I offer my best analysis and research of them. In other words, I'm no music expert. I'm a music lover trying to share some great tunes in a unique way that I hope puts you on a path of discovery and conversation, not argument.
Finally, and I can't stress this enough for myself and Gavin (Kendall Reviews), this is MY list. Of course I left off your favorite. You can tell everyone about it below, but do it politely. Also, this list is in no particular order.
Welp, pitter patter, let's get at 'er with:
PSYCHO KILLER
Talking Heads
1977
Yeah, I know. Bit on the nose right off the bat, but it's so hard not to enjoy the funky bassline and lead singer's David Byrne's rhythmic description inside the mind of a serial killer.
What's great about this song is the manic conversations, starting off earnest enough before slipping into bouts of angry ticks and paranoia in other languages. Soon enough, he's telling you that you need to run.
Many thought the song was about the Son of Sam given the unfortunate timing of the song's release, but the more likely inspiration is said to have been the notorious mother's boy himself, Norman Bates. Byrne's, having co-written the song as a joke, wonders why people like it as much as they do. But a quote from Byrne in a liner note about the song answers that question.
"Both the Joker and Hannibal Lecter were much more fascinating than the good guys. Everybody sort of roots for the bad guys in movies."
With a song like that as a theme, it's hard not to agree.

I WON'T HURT YOU
The West Coast Pop Art Experimental Band
1966
From an obvious choice right to a defendable cheat, you're probably saying this list is already buckling like it's BuzzFeed.
"An 18th would have killed the integrity of the article. Nice Restraint."
But hear me out. The second I heard this love song for the first time, (which was near a decade ago) I IMMEDIATELY thought, "This is a serial killer song." Recently, there was even a question posed on social media as to which song you would select were you the killer in the house with your victim and you came across a player.
This was and is my top choice.
It's not the about the song itself. It's a beautiful love song. It's all about the presentation. A guy has a crush on you vs. a creep that is obsessed with you just sent a sketch of you he did in his own blood. Both love you, sure, but it's all about the presentation. Like if Sonic Youth's version of "Superstar" was the original. These guys just cut out the middleman.
The song fades in with a thumping heartbeat, followed by a gentle guitar, and a soft spoken voice shyly singing as if he's outside your window in the middle of the night. The lyrics are very poetic and border on obsession like any good love song, but then the chorus. Oh the chorus, echoing gently into the unseeing night.
"I won't hurt you.
I won't hurt you.
I won't hurt you.
I won't hurt you."
That's a phrase you hear when you wake up tied to a chair and the last thing you remember thinking was, "Have we met? You look awfully familiar. Pretty sweet dragon on the side of your van."
"Now I remember."
Now Wes Anderson is using this to promote his new stop-motion animated feature about adorable dogs helping a boy to try and find his long lost pet…
…and that song is still creepy as fuck to me. Like "Hurdy Gurdy Man" by Donovan creepy.
Thanks Fincher.

IT'S NATURAL TO BE AFRAID
Explosions in the Sky
2007
This song, this one is difficult to do an entry for because this and every Explosions in the Sky song is an instrumental.
Off of the '07 album All Of A Sudden I Miss Everyone, this nearly 14 minute track won't find the same path with you as it does with me or anyone else.
The song moves in like a fog. Just you, the darkness, and the slow walk you make. It's like that tree in The Empire Strikes Back you have to enter to progress in learning the deeper secrets about life. You have to know your fear first.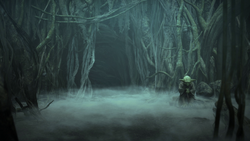 "Yeah, no that's okay. I just had commitment issues for lunch."
What you see when you close your eyes and listen to this song is meant only for you, and you are to be reminded that, indeed, it is natural to be afraid. Life and death are equally scary.
"Stop it Bo"
But unlike the other songs on this list, you may find this one has a happy ending for you, if not but an optimistic one.
If they aren't already, these guys may quickly become one of your inspirational sources of music.
But let's finish this list first, yeah?
PULLED TO BITS
Siouxsie and the Banshees
1979
The B-Side to the English post punk band's single "Playgroud Twist", "Pulled to Bits" is an immediately haunting song, putting you in an hypnotic state with its bassline as the ambient noise of children playing trickle into your ear. You're unsettled yet trapped.
Then, out of nowhere, her voice emerges from the crowd like a mad woman, warning you of what is to come as if she has already witnessed it herself. A small spark of violence gives way to pandemonium. Then, by the end, everyone will be dead, left to rot in pieces.
PICTURED: Future Cemetery
By the time she slips back into the unseen, you come to the conclusion that her testimonial is an inevitability. A thought to hold onto as the sound of children playing remains the only sound between us and silence.
The song, like most, is open to interpretation. The horrors of war? A rumored reaction to the copycat violence in the UK upon the film release of A Clockwork Orange? I don't know.
What I do know is this song pulls me in, holds me down, and forces me to experience a powerful onslaught that ends as softly as it had started.
…they did that awesome song for Batman Returns too, so…
Hey, I know what will liven things up!
MACK THE KNIFE
Various Artists
1928
Yeah, we are going back for this one as this probably has the most interesting history of all the ones on my list. "Die Moritat von Mackie Messer" (The Ballad of Mack The Knife) was a song featured in the Berlin musical/play "Die Dreigroschenoper" (The Threepenny Opera). But that's not how most of us know it.
Though Louis Armstrong rolled out a version first in the US in '56, it would be Mr. Bobby "Beyond The Sea" Darrin's version that would make the song a hit in both the US and the UK in 1959. His version is so damn dapper and oozing with suaveness, you can easily overlook the song's lyrics:
"Oh, the shark, babe, has such teeth, dear
And it shows them pearly white
Just a jackknife has old MacHeath, babe
And he keeps it, ah, out of sight"
Haha! Yeah, ba…wait, what was that?
"Ya know when that shark bites with his teeth, babe
Scarlet billows start to spread
Fancy gloves, oh, wears old MacHeath, babe
So there's never, never a trace of red"
"Now on the sidewalk, huh, huh, whoo sunny morning, un huh
Lies a body just oozin' life, eek
And someone's sneakin' 'round the corner
Could that someone be Mack the Knife?"
Holy shit. I'm toe-tapping to a witness report.
Yes. One of the swinging hits of the fifties is about a killer roaming the streets named Mackie "Mack the Knife" MacHeath. And the lyrics only get worse from there. But the closing lyrics might be my favorite:
"Now Jenny Diver, ho, ho, yeah, Sukey Tawdry
Ooh, Miss Lotte Lenya and old Lucy Brown
Oh, that line forms on the right, babe
Now that Macky's back in town"
Mack's so busy, you practically have to take a number.
Everybody and their mother has done a recording of this song. Hell, did I do a cover?
Yep. Track 4. Right after "Every Breath You Take"
Needless to say, there's a lot to choose from. Tom Waits does an amazing live version (Because, of course), but it's such a low quality recording, it's frustrating. Marianne Faithfully does an intoxicating cabaret version that needs to be heard as well.
But, for this list, I got to go with a version that does the subject matter the most justice. Really drives home the "weird stranger emerges from dark, foggy alley to say 'Did ya hear?'" vibe of the song. For me, only one man has done that.
The national treasure that is Nick Cave.

A WOLF AT THE DOOR
Radiohead
2003
Now a lot of Radiohead fans will probably be quick to tell me that "We Suck Young Blood" would be a better choice off of '03's Hail to the Thief. Hey, I'm down for slow, creepy, vampiric symbolism as much as the next guy.
As long as it doesn't get me involved with fighting a centuries old vampire lord.
But this track has a stronger sense of dread to me. Why? Because of what fear can do to a person's psyche.
Coming off as a Stanley Kubrick production of a Grimm's fairy tale, Thom Yorke's lyrics describe a victim as they are humiliated, cursed at, beaten, and ultimately threatened to the brink of insanity. No longer recognizing who they are in the mirror, begging to be put away, the victim speaks of the wolf at the door. How he calls constantly, promising harm and demanding a ransom lest he steal all the children. And all the while, the world around only presses harder, contributing its own paranoias.
Where this song drives home the real fear is in its deeper meaning with the title being the clue. "Keeping the wolf at the door" is an idiom for putting food on the table and keeping a roof over our head. It's the daily grind to survive, and "The Wolf" is what we all face each day to do that. The things that threaten to eat us alive if we let them. We all have our wolves, and we all keep them at the door as best we can.
What's scarier than the real life day to day hustle to keep our loved ones safe and make it to tomorrow?
Sorry. Here's a puppy.
Oop. Wolf pup.

QUARANTINED
At The Drive-In
2000
Let me say here and now that Cedric Bixler-Zavala is a lyrical genius. At first glance, his words can seem nonsensical. But as you read deeper, meanings form like shapes in the darkness. And those meanings, while likely wrong, will often still fit. Cedric wants you engaged and thinking. He keeps his words flowing with the kinetic energy of a asteroid falling to Earth, so meaning finds it responsibility to the listener.
It's okay to use our brains everyone.
Even though "Quarantined" (off of '00's Relationship of Command) is about his feelings of seeing the treatment of Hispanics at the border crossing back and forth daily for work from the nearby suburbs he grew up in, the lyrics are so stylized, it's not that simple to see.
But straightforward isn't Cedric's bag, and I'm glad it isn't. Why? Because this song became a HUGE influence on my first novel, YEAR 47.
Thunder rolls in before the rain, and a smoky bassline introduces us to a world dying in the shadow but not yet dead. Sampling the lyrics:
"Break the weak in single file
Sanction this outbreak- a virus conspires
Push becomes shove, days become months
I seem to have forgotten the warmth of the sun
Feeding frenzy, it's contagious
Have trigger, will travel
Single sparks are spectral fires"
The western flourish coupled with the post-apocalyptic horror vibe of this song found me at the right moment while trying to shape the ideas making up the book. This is the theme song to Year 47, which I'm sure everyone who knows me is sick of hearing. But I love this long, and you're free to leave. Just hit that back button.
Don't let the home screen hit your thumb's ass on the way out.
Thing is, this isn't even the only song off that album I consider a classic horror song (See: "One Armed Scissor for some sci-fi scares), and it's certainly not the only time Cedric will appear on this list…

ROLAND
Interpol
2002
I could do an entire article about the perfection of Interpol's debut album "Turn On The Bright Lights". I like to call them the "tragic romantics" of Rock. But a sense of shock is mixed in with this tragedy upon learning the truth about a best friend from a nameless subject.
"Hey, my best friend's a butcher, he has sixteen knives
He carries them all over the town, at least he tries
Oh, look, it stopped snowing
My best friend's from Poland and um, he has a beard
But they caught him with his case in that public place
That is what we had feared"

How quickly we are pulled away from our own business as a stranger engages us in public. The casualness of the conversation, even pausing to make the observation on the weather, the "um" before physically describing him, lends to the verisimilitude of what we're being told. What we're about to be told.
"He severed segments and secretly liked that
He always took the time to speak with me and I liked him for that
He severed segments and secretly liked that
He always took the time"
Meanwhile, the song's pace is drilling, pressing harder upon the mention of secretly liking the act of cutting flesh, as if the music thrills to the violence too.
Depending on the version of the song you listen to, the more unnerving the experience can be. Earlier demo versions are slightly distorted, and the strings unhinged, only lending to the displaced fear.
We have never met this man from Poland, and we don't want to after the brief exchange. Even the stranger seems to be losing the connection with him by the end of the song, saying, "He was growing on me." No longer a best friend. Possibly no longer sane.
But then that fucking epic outro makes everything better. Interpol are the masters of outros. Seriously. Go listen to PDA and not reach a new plain of existence when the outro is playing.

MURDER
Jonathan Bree
2015
I discovered Jonathan Bree last year because of his amazingly slick single "You're So Cool". Almost no effort was needed after that before finding this brief yet effective tune. "Murder" begins innocently enough. A sweet melody played on the piano joined shortly by Bree's creeping lyrics.
"now you don't feel welcome
in your own home
once all jobs went to your
kind alone"
A lingering fear is acknowledged, immediately making it real. By doing this, the next line reaches its full effectiveness.
"now you don't feel safe in
your sweet home
double lock every door
they're down the road"
As soon as Bree makes the reveal, a methodical bassline kicks in, driving the tension like the maddening heartbeat in The Tell-Tell Heart. You are no longer safe, no longer protected, and they are coming for you. And as they come to your door calling for your head, an unnaturally beautiful voice disorients you as it ushers in Bree's final verse, his voice now darker than before.

"you're the embarrassment
bigots calling for a line up murder
fearing most everything
bigots calling for a line up murder"
And like that, it's over. The veil of terror is lifted, and we exit on a few soft keys as the crowd's appetite for blood is satiated.
"Um, I'm not cleaning this up"
Bree, a New Zealander, wrote the song as condemnation on his country's "xenophobic racism". The way in which he did so, Bree makes us all afraid of being an outcast, condemned for not being the same. A very real fear that each of us either severely lack or greatly understand.
The music video, another horror treat of its own, portrays Bree as a turn of the century musician alongside a singer giving an unforgettable private performance.

THE MALKIN JEWEL
The Mars Volta
2012
Remember how I said Cedric Bixler-Zavala, lyrical genius, would show up again on this list? Truth. He's the lead singer and lyricist for The Mars Volta as well.
Remember how I said this list was in no particular order?
I lied.
This is so beyond number one, it's the inspiration for doing this article.
This is the crowning jewel (Best Selling Author and Novel of the Year writer here folks) of horror songs.
Real.
Genuine.
Gothic.
Horror.
I urge you to read these lyrics as you listen to the song, taking note of how the lyrics are sung in addition to the lyrics themselves. I also suggest headphones if possible and no interruptions. You only get to experience this audio equivalent of Turkish Delight and warm blood for the first time once.
Ready? Hit Play.
"I must have crawled through your bedroom door in a fit of jealous breath.
Perched up on the bacchus foot of your unsuspecting bed.
From the blossom rags of my jackal croon
to the stems of this cinquefoil,
I give to you the shrapnel with which to sprinkle in her soil because

All the traps in the cellar go clickety clat
because you know I always set them for you.
Yeah for you.
And all the rats in the cellar form a vermin of steps.
Yeah you know they're gonna take me to you.
Yeah to you.
You wash it down with harlot soap. Well, is this what you want?
I'll paint your steps with the lilac stains of smelter revenant.
My cutlery is rattling in the dormant wooden drawers.
From the palm of my throne, I beckon you
to cut the orchid chord 'cause
All the traps in the cellar go clickety clat
because you know I always set them for you.
Yeah for you.
And all the rats in the cellar form a vermin of steps.
Yeah you know they're gonna take me to you.
Yeah to you.
I know a girl that was woven
in spindle and thread.
Wrapped in a bivouac of taffeta scaffolding web.
She tosses and turns
and wakes all the children in nest.
Yawning with hunger,
they take turns of nourishment.
And she says
Somebody…somebody help me.
Is there anybody that can set me free?
From the mountains of avarice, this I beg to you!!!
MY ETHER TURNS FLESH TO GRAVEL!!!
All the traps in the cellar go clickety clat
because you know I always set them for you.
Yeah for you.
And all the rats in the cellar form a vermin of steps.
Yeah you know they're gonna."
I'll give you a minute.
I know. Heart's racing? Spine's tingling? You want to finish this article for me now, right? Sorry, but comments are below.
This song gives me more than goosebumps every time I hear it. I have those by the time Cedric's beautifully singing the woman's horrific cries for help.
"AhHhAhH AhHhAhH AhHhAhH
Somebody. Somebody save me."
I feel all this surging energy flowing upward through my back like a primal fear as the mountains of avarice line come in. And then, as the next line approaches, it's like a blade is being every so delicately dragged across the back of my neck.
Then the knife pierces my spine almost painlessly, as he screams "My ether turns flesh to gravel!"
My ether turns flesh to gravel. WOW.
By now, I'm lost in a haze of anger and devastating organ chords the likes of which The Phantom of the Paradise has never seen.
Then nothing. Only your breathing, and the question of whether or not you're still alone.
Next week. I give you my Top Ten Favorite Care Bears. You're not gonna believe who gets number 1!
Daydream Bear. It's Daydream Bear.
My thanks to Gavin for letting me do this article and to you for reading it.
Bo Chappell
Hey guess what? I have all that stuff authors are supposed to have, including books! I heard good things. Why don't you go check those out?!
Oh.
That's a… that's a pretty good reason. Well, I'm going to leave the links here anyway. Hope the doctor gives you better news when you go back.
Bo's Amazon Authors Page can be found here
To find out more about Bo please visit his website: https://bochappell.wordpress.com
Twitter: @infrafan
There once was a creator who watched over you from the Heavens. Who kept you safe from his past and present. Who gave you all that you needed to build your own lives while guiding you home. Who knew your name and loved you. But He no longer existed, and His three houses were destroyed. Your countless prayers have gone unanswered, and your endless hopes have been buried in unmarked graves for forty-six years. With the walls torn away, the three became one. And among the blackened skies and arid soil of the New West walked a man with a gun and no purpose. A Stranger to you and everyone else. But as chance and fate collided, a lonely girl crossed the path he walked, carrying hope that her home was still out there waiting for her. How long can purpose be denied, and how far can hope carry two heavy hearts in an unknown land? There is no Heaven. There is no Hell. There just is. And you will bare witness to Year 47.
You can buy Year 47 from Amazon UK & Amazon US
KR: I really do hope that all the videos worked for you regardless of the region you are currently in.
Bo's playlist.
Talking Heads – Psycho Killer
The West Coast Pop Art Experimental Band – I Won't Hurt You
Explosions In The Sky – It's Natural To Be Afraid
Siouxsie And The Banshees – Pulled To Bits
Nick Cave – Mack The Knife
Radiohead – A Wolf At The Door
At The Drive-In – Quarantined
Interpol – Roland
Jonathan Bree – Murder
The Mars Volta – The Malkin Jewel